★シンガポールのローカルチームF17とMOUを締結★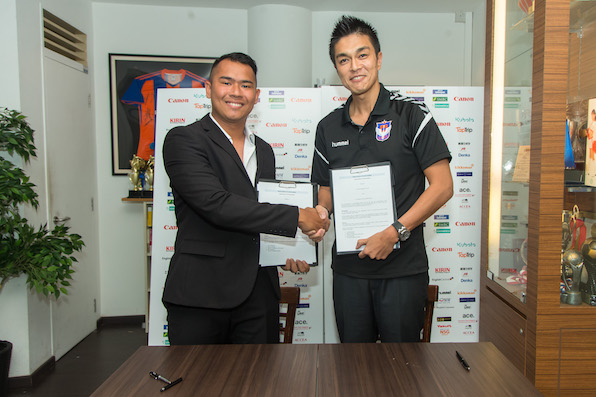 Thank you for your warm support.
Albirex Singapore Soccer School and F-17 FOOTBALL ACADEMY have signed a Memorandum of Understanding regarding F17 FOOTBALL ACADEMY
Under the MOU, Albirex Singapore PTE LTD and Sport Singapore will conduct an Albirex-F17 Football Program for boys and girls aged between 8 to 12 years old, Once a week a together.
both soccer school & senior team training session with the option to interact with Albirex coaches to review training sessions and gain more footballing knowledge.
【About F17 FOOTBALL ACADEMY】
Started in 2011, the F17 soccer academy is founded by Singapore's favourite footballing son, Fandi Ahmad.
To be a professional youth football academy for budding footballers to achieve their dreams and focus on developing players into good citizens by imparting life values and also good players through quality life values and also good players through quality programmes.
Approximately 500 children aged 6 to 17 are playing at the training center established in Singapore.
いつもALBIREX SINGAPORE SOCCER SCHOOLをご愛顧頂き誠にありがとうございます。
Albirex Singapore Soccer SchoolはF17 FOOTBALL ACADEMYと、サッカー普及事業における覚書を締結しましたのでお知らせいたします。
これにより両クラブ共同で「Albirex-F17 Football Program」を設立します。8〜12歳の子どもたちを対象として、週に1回共同でサッカー教室を開催。また、U-15チームを発足することを計画しております。さらに、指導者同士の意見交換や指導者講習により、双方の指導者の育成にも協力します。
【F17 FOOTBALL ACADEMYとは】
2011年よりF17 FOOTBALL ACADEMYは、シンガポールの英雄である、Fandi Ahmad.によって設立されたサッカーアカデミーであり、サッカーの価値を伝えながら、優秀な選手を育てることに重点を置いていますシンガポール国内に設置されたトレーニングセンターで6歳から17歳までの子どもたち約500人がプレーしています。